In the world of "spa cuisine" all things fresh and wholesome are savoured, forget the sugary, fatty and processed. A stir fry or salad you make consider depending on the climate, but a soup is a meal that's enjoyed any time of year. In the cold winter months a thick vegetable soup does the trick, as does a lite spicy tom-yum soup during the summer months.
This Bulangang Soup is a favourite at
The Farm
in the Philippines. On viewing the recipe I thought, yes, I have all that, but then I stumbled over the moringa and thought, oh no! What is that and where am I going to find it? There is nothing more deflating than being keen to try a recipe from a far-flung country only to discover, the ingredient/s are unable to be sourced locally. But don't fear, moringa leaves can sourced here in Australia. Enjoy this wholesome soup from The Farm...
This is a typical Batangas recipe that takes ingredients straight from the vegetable garden into the pot. One hundred percent natural, with all of nature's goodness, it has nurtured local people for centuries. Key to the dish is the garnish or moringa leaf; known as malunggay in the Philippines, it is considered a miracle tree, as all parts of the tree can be utilised. Gram for gram moringa leaves contain seven times the vitamin C in oranges, four times the calcium in milk, four time the vitamin A in carrots, two times the protein in milk and three time the potassium in bananas.
INGREDIENTS
5 cups vegetable stock
1/2 cup squash cut into cubes
1/2 cup string bean, chopped (optional)
1/2 cup eggplant, cut into cubes
1/2 cup corn kernels
1/2 cup tomatoes, chopped
1/2 cup papaya, cut into cubes (optional)
2 tbsp miso
1 inch ginger, sliced
2 cloves garlic, sliced
salt and pepper to taste
1/2 cup moringa leaf, for garnish
METHOD
Boil the vegetable stock for 15 minutes, then add all the ingredients and cook until everything is tender (approximately 10 minutes). Season to taste, then scatter the moringa leaves on top and serve. Serves 4-6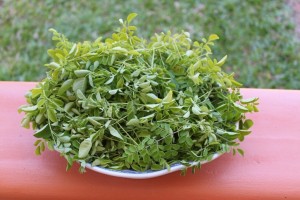 moringa leaves
On researching where moringa leaves could be sourced, I discovered Charles who is farming moringa trees in Cairns, North Queensland. Interesting was the information on the
benefits for stress and the anti-oxidants
found in moringa leaves. Speak to your local grocer about stocking moringa.